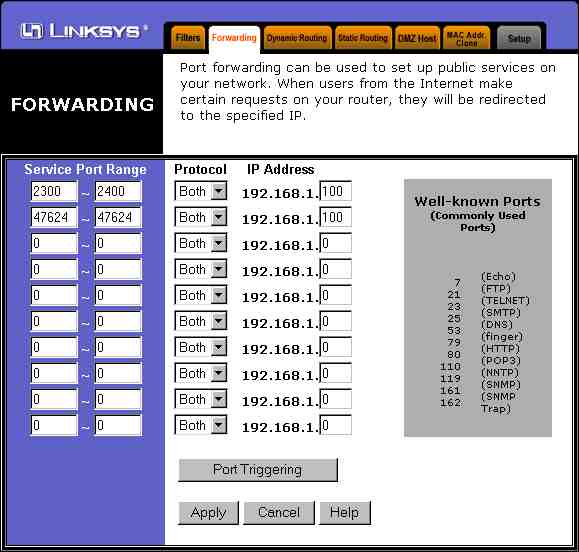 Click to enlarge
I get bugged a lot on how to get LinkSys routers to work with TA, since I have recomended the linksys router so many times, So this is a few ways to get a linksys router (wireless or other) to work with TA. Although this may also work with other routers this is all in relation to a linksys router with a more recent firmware version. This also asumes you have TA installed and patched properly.
First of all do NOT use DMZ, this opens all the ports to the given computer, not a wise thing to do on cable and dsl connections. Instead you should forward the required ports for the game or application. Either way, until linksys releases a firmware that supports it, only 1 local computer on your lan will be able to play a game with online players. This is because you can only forward ports to one IP, and TA requires the directX ports to be open, so do other games so this will help some of them work too. TA only allows one set of ports, or so this is the popular belief at the time I write this.
The direct X ports are 47624 for DirectX 7, and 6073 for DirectX 8, you may or may not need to open them both (I use 7 and only have the 47624 port open). TA also requires another set of ports to be open, these are ports 2300 through 2400, other sources say to open more, but thats all TA apears to need.
For those that know how to forward the ports on the router your probly all set now, but for those that don't or if its still not working read on.
To forward the ports listed above load your routers advanced options menu. 1 Go to Internet Explorer and type in 192.168.1.1 in the address prompt. 2 Enter your password, the default is name:(leave it blank) and password: admin , if you did not change it yet you REALY should. 3 Click on Advanced, and then PORT FORWARDING, and your screen should look very much like this screen shot. If you have less input boxes upgrade your firmware so you can use port ranges.
4 Input the ports as shown, but the IP should be that of the computer that is going to play TA. To get that ip, on that computer, goto start, then run, then type winipcfg or ipconfig, this will tell u the IP to that computer. If your using DHCP the IP will likely change, one reason I dont use DHCP.